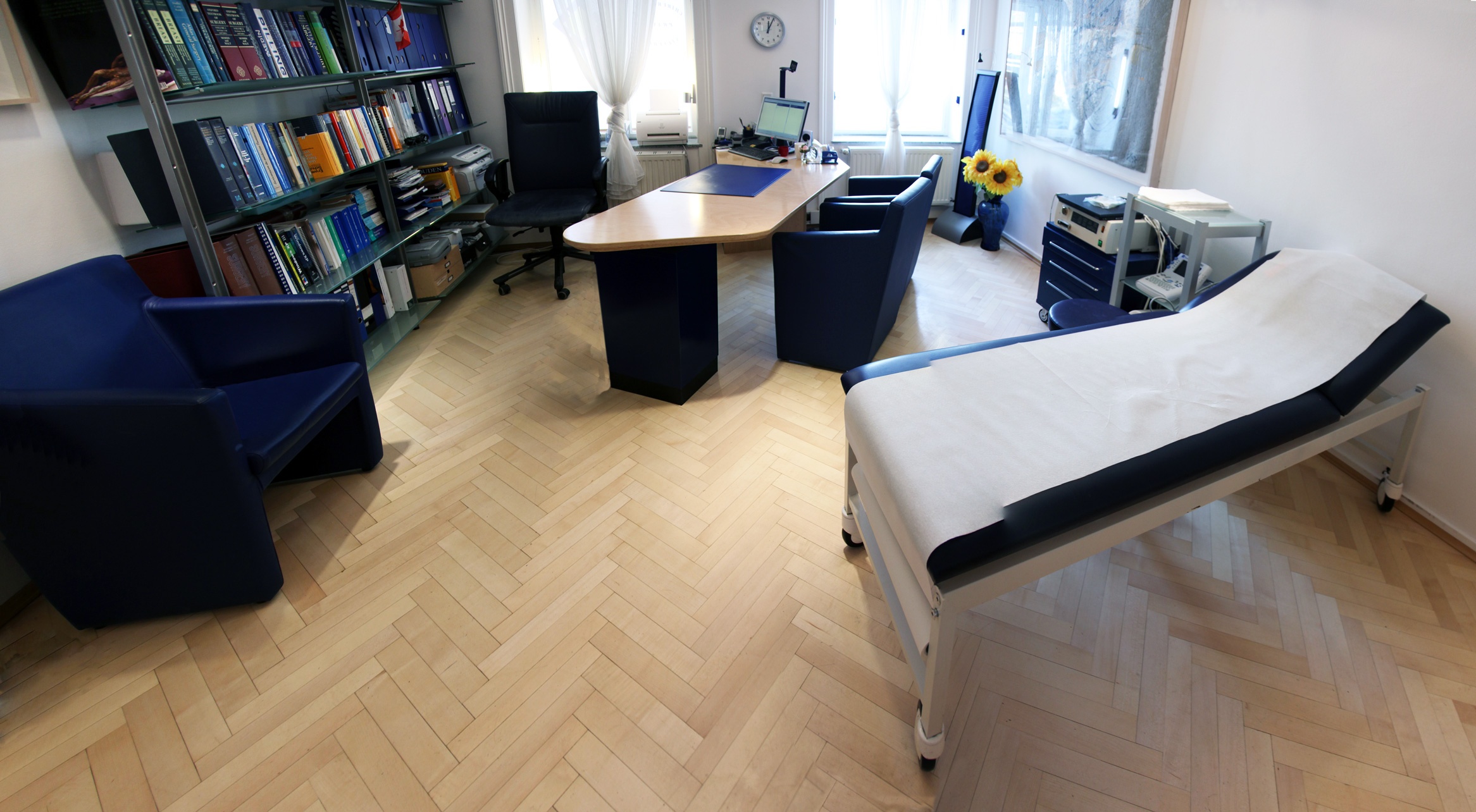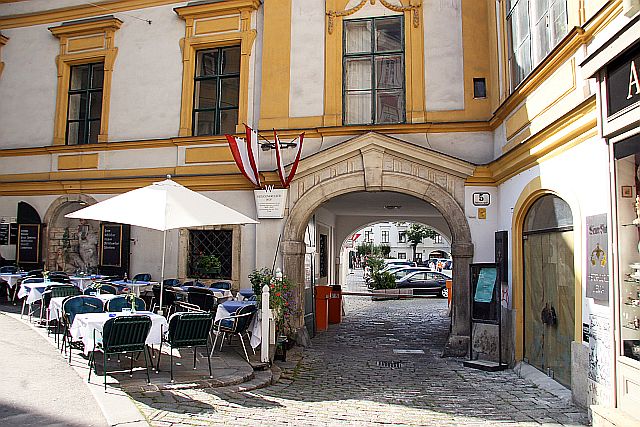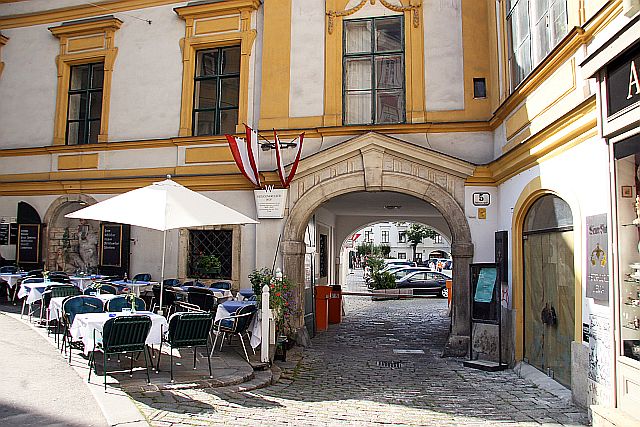 Eingang Heiligenkreuzerhof, Schönlaterngasse 5, 1010
Eingang Heiligenkreuzerhof, Schönlaterngasse 5, 1010 - copy
Competence Centre for Minimally Invasive Medical Services
Welcome to the Dr Bull's Clinic in Vienna.
The Clinic Sievering is a surgical outpatient clinic offering state-of-art diagnosis and treatments for the fields of phlebology (diagnosis and treatment of vascular disease), proctology (diseases of the rectum) and gastrointestinal ailments.
Dr. Philippe Bull, specialist in general and vascular surgery, is skilled in providing day-care surgery in a quiet and relaxed atmosphere under local anaesthesia, and endoscopic and vascular diagnosis.
Our services encompass treatments such as endovenous laser treatment for varicose veins, sclerotherapy, gastrointestinal endoscopy and colonoscopy.
The clinic is divided into following centres of excellence:
Vein Care Centre
State-of-the-art facilities for diagnosis and treatment of vascular diseases. The Endovenous Laser Suite is a part of our outpatient surgical service.
Varicose Veins
Phlebitis
Leg Ulcers
Chronic venous insufficiency
Colorectal Centre
Assessments and follow-up care, primarily for patients diagnosed with colorectal cancer and other colorectal affections.
Haemorrhoids
Polyps
Colorectal Cancer
Diverticulosis
Gastrointestinal Centre
Assessments and follow-up care, primarily for patients diagnosed with gastrointestinal cancer and affections.
Crohn Disease
Reflux Oesophagitis
Stomach Ulcers
Hiatal Hernia
Radio-Frequency Ablation
Surgical Day Care Centre
Today, common clinical problems can be addressed using a variety of techniques.
Tumour Biopsies
Varicose veins
Rubber-band ligation
Fissurectomy
Fistulectomy
Haemorrhoidectomy
First visit (Medical history form)
In order to make ensure specific investigation or treatment, we need from you, as a new patient, all information concerning your health. Fill out the Medical History Form and print 2 copies, one for you and one for the clinic.
Click here to fill out the medical history form
Bring to the Appointment:
Insurance Card, Referral Forms (if applicable), Previous Health Records, Pertinent medical records (x-rays, blood work, growth curves, etc.)
Services
At Dr Bull's Clinic we are committed to providing personalized and compassionate service to all our patients and offer state-of-the-art surgical techniques.
We offer a comprehensive and multi-disciplinary approach that provides a wide range of clinical and surgical services including:
Diagnosis
Treatments
Vein Care Centre
Venous Assessment

Palpation

Percussion

Perthes Manoever

Trendelenburg Test

Non-invasive Diagnosis

Doppler Auscultation

Ultrasound Investigation

Duplex Ultrasonography

Two-dimensional Ultrasonography

Colour-flow Imaging

Magnetic resonance Venography

Non-invasive Treatments

Compression Stockings

Unna Boots

Minimally Invasive Treatments

Transcutaneous Laser

Intense-pulsed-light Therapy

Sclerotherapy

Microsclerotherapy

Endoluminal Laser Ablation (ELVA, ELVeS, EVLT)

Radiofrequency Ablation (VNUS)

Subfascial Endoscopic Perforator Surgery (SEPS)

Surgical Treatments

Phlebectomy

Surgery for Perforated Veins

Vein Ligation and Stripping

Arterial Care Centre
Non-invasive Diagnosis

Doppler Auscultation

Ultrasound Investigation

Trendelenburg Test

Arterial Ligation

Stents

Angioplasty

Bypass

Colorectal Centre
Endoscopy

Colonoscopy/Rectoscopy/Sigmoidoscopy

Endorectal Sonography

pH-Metry

Anorectal Testing

Cancer Screening

Endoscopic Photographs

Manometry (anorectal)

Barron Ligature (Haemorroids)

Haemorrhoid Resection

Laser Coagulation

Injection Sclerotherapy (Haemorroids)

Haemorrhoidal Artery Ligation (HAL)

Gastrointestinal Centre
Endoscopy

Gastroscopy

Manometry (Esophagus)

Abdominal Sonography

Cancer Screening

Biopsy

Endoscopic Photography

Chromo-Endoscopy

pH-Metry

Reflux Surgery

Stomach Surgery

Bypass

Radiofrequency-Ablation (RFA)

Day Care Centre
Cancer screening

Ultrasound-guided Aspiration

Biopsy

Hernia Therapy

Skin Tumour Removal

Wound Care

Small Plastic Surgeries

Nail Sculpture

Gallstones

Gallbladder Infection

Hand Surgery

Mucosectomy

Stents
To provide our patients with the highest quality surgical care available, our practice is limited to the evaluation and treatment of general surgical conditions. If you do not have a primary care physician, we will gladly refer you to someone for your non-surgical needs.
The following information is provided for our patients:
Prepare your visit
What to bring to your Appointment:
Forgot to tell the doctor something important? Having trouble remembering the doctor's instructions?
Use the form(s) below to prepare for your office visits.
Bring to the Appointment:
√ Insurance Card
√ Referral Forms (if applicable)
√ Previous Health Records
√ Pertinent medical records (x-rays, blood work, growth curves, etc.)
UShow your doctor that you're all business by arriving on time for your appointment. This shows that you respect his time and that he should also value yours. Also, be kind to the good doc and follow mom's advice by showering and putting on clean underwear beforehand.
Remember that you are responsible for obtaining your Referral.
Do not rely on your general practitioner's office to fax or mail us the information.
These are crucial pieces of data needed for the first visit.
General Information
The range of tests includes all outpatient endoscopy, and invasive procedures such as endoscopic polypectomy and mucosectomy, endoscopic insertion of esophageal stent and percutaneous gastrostomy (PEG).
Patient info
You should obtain a written consent prior to each endoscopic evaluation.
An information discussion should take place in the clinic at least 24 hours prior to the test.
Some important points should the be considered:
Information about premedication – in the case you should need anesthesia it is forbidden to drive or manually operate machines for 24h.
Awareness of coagulation-active substances (Marcoumar, Sintrom, Thrombo ASS, Aspirin)
Signature of physician and patient
Prior exam results
You must bring to the clinic all test results in your possession, including:
√ KBB, PTZ, PTT
√ your blood type
√ HIV
√ Hepatitis
If you are to undergo a polypectomy, you must bring your test results on lower limit of platelet count.
Preparation for different tests:
Duodenoscopy (Oesophagus)
Fasting for 8 hours or on the eve (approximately 20:00 clock)
Proctoscopy
Examination day: Clysmol (suppository) in the morning. Breakfast is allowed.
Recto-sigmoidoscopy
Day before: only liquid foods (tea, soup), take X-Prep by 16 clock.é Drink at least 3l.
Examination day: Clysmol in the morning. Breakfast is allowed. Drink lots of fluids.
Colonoscopy
Preparation for colonoscopy
During the visit
First Time Visit ( Every Visit )
Medical History Questionnaire:
As a new patient, you have a lot of background to share with a new physician. In order to make sure you understand your condition and treatment, ask your doctor these questions and write down the answers to review when you are home. Print this form to take with you on your first (next) appointment.
Click here to fill out the medical history form
The visit
Talk to the doc
Show your doctor that you're all business by arriving on time for your appointment. This shows that you respect his time and that he should also value yours. Also, be kind to the good doc and follow mom's advice by showering and putting on clean underwear beforehand.
Ask questions
Don't be shy or embarrassed to discuss anything with your doctor or to ask any questions. His job is to make sure you're healthy, without passing judgment on you or your lifestyle. Don't feel rushed. Ask all the questions you want to ask and get the answers you need.
Describe your symptoms in detail
Provide details and don't hold anything back. You want the best diagnosis; so give the most accurate description of your symptoms.
Don't hide anything about your habits
Be honest about your use of alcohol, tobacco and drugs. Even if you're only an occasional smoker, tell your doctor.
Detail your sexual history
This is vital for your doctor in order to assess your risk for STDs and AIDS, as well as your overall health.
Mention any natural products you are taking
Whether they are supplements or over-the-counter drugs, natural products can interact with certain medications.
Ask for specific feedback
Ask for detailed and personalized information and advice, not just general feedback like "you're tired and need to get some rest.
Ask for referrals
Anticipate future visits to specialists and ask your doctor for referrals.
The physical exam
Your physical exam should be relatively painless, but since it should involve a comprehensive blood test, prepare yourself mentally if you're squeamish about needles. You may also need shots to update your immunizations.
After the visit
Follow up
Feel free to call your doctor after your visit if any other health issues come up, but don't overdo it. Most doctors will expect you to come in to see them to discuss any new problems.
Request pre-scheduled appointments for regular tests you need to undergo, such as for HIV or Hepatitis if you are in a high-risk group.
Continue taking any medication prescribed by your doctor and keep your prescriptions updated. Note that the doctor can't renew a prescription over the phone.
Remember that there are few things in life more important than your health. So now that you know how to maximize your doctor visit, go ahead and make that appointment.
Online Appointment Request
(Mednanny)
Medical History From
(Online zum ausdrucken)
Feedback
(angeschlossen an email Adresse feedback@sievering.com)
The Sievering Surgical Clinic in Vienna strives to improve its services to its patients by continually examining our Internet services and clinical practices. If you would like to provide feedback you can use this form to submit your feedback.
Please choose the subject from the dropdown list below that best categorizes your comments.
Please note that we may be unable to respond to all feedback received via this website.
However, we will use your suggestions to improve our website.
Contact
Dr Bull's Clinic, Vienna
Sieveringer Street 9, A-1190 Vienna
Phone + 43 1 328 8777
Nurse on duty + 43 664 12 14 277
Email info@sievering.com
Online Appointment Request
Our call centre is available from 8 AM to 4 PM.
Dr Bull's City Clinic
Heiligenkreuzerhof
Grashofgasse 3, 1010 Vienne
Phone + 43 1 512 2458
Email info@dr-bull.com
Online Appointment Request
Service Hours
Monday from 2 PM
Wednesday from 2 PM
Dr. med. Philippe Bull
Philippe Bull, MD, Fellow European Board Vascular Surgery
Dr Bull received his medical degree at Vienna Medical University in 1982. Following 15 years in general and vascular surgery he founded the Sievering Clinic in Vienna in 1998 and decided to devote his full time activities to the emerging specialty of phlebology (venous disorders). He trained under Prof Helmut Denck and Prof Georg Hagmüller, both passed President of The Austrian Society of Vascular Surgery. Since opening the The Sievering Clinic, he has been actively involved in education and he has presented papers at numerous conferences.
Specialties:
Vascular Surgery
Colorectal Surgery
Gastrointestinal Surgery
Curriculum Vitae
1977-1982 Medical School at the University of Vienna
02/06/1982 Medical Doctor Degree (Promotion, University of Vienna)
09/06/1982 American Nostrification of Medical Degree [ ECFMG ] -Educational Commision Foregin Medical Graduates
1983-1985 Doctor of Medicine in Vienna
09/01/1985 Beginning of Surgical Training in Vienna -Lainz ( Prof. Dr. H. Denck )
05/31/1991 Visceral Surgery
01/19/1991 Medical Certification for General Surgery
1991-1996 Consultant Surgeon General & Visceral Surgery
09/16/1997 European Board Certification for Vascular Surgery
Publications
Neue_Lasertherapie_bei_Krampfadern.pdf
Videoinstructions